Under construction.

Last update: Feb 21, 2002

English:

This page contains various items that are still on our wishlist. With my birthday celebration coming up (at least on time of writing), it could at least give some indication of what we would like for our birthday.

The official caretaker of this (in order not to spoil any surprises for us) is Anton Koning (+31 20-6310535). You can select an item and when you submit the form below, it will automatically be sent to him. Or you can call him and let him know directly, or ask him to coordinate (for example with more expensive items).

Nederlands:

Deze pagina bevat verscheidene dingen die we nog op ons verlanglijstje hebben staan. Met onze komende verjaardagsviering (althans, toen ik dit schreef), geeft het wellicht een indicatie van wat we voor onze verjaardag zouden willen hebben.

De beheerder van dit fraais (om het een beetje een verrassing te laten zijn) is Anton Koning (020-6310535). In het nu volgende formulier kun je een selectie maken en dan op de 'Submit' knop drukken. Het wordt dan automatisch naar hem gemaild. Maar je kunt hem ook bellen om eventueel dingen te coordineren (wellicht handig bij wat duurdere kado's).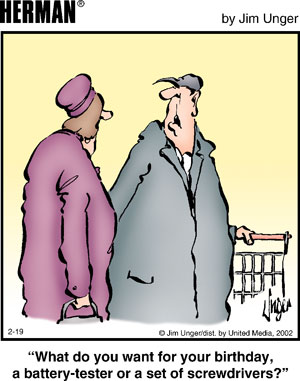 ---